From sun to snow, it feels like this week, we've seen it all. Luckily for the stars and the red carpet, it looks like the snowpocalypse headed our way didn't make it to Sunny LA, and the SAG awards went on without a hitch. The stars looked glamorous as ever, and we were thrilled to see our favorite accessory hit the red carpet: pearls. Here are some of the pearls we spotted — did we miss any? Do you want to recreate these looks? Here are a few tips how.
1. Felicity Jones looked dashing as ever in a fitted peach gown, and showed off her diamond and pearl earrings with an up-do fit for a movie star. While we wouldn't necessarily think that such a light tone would go with her fair skin, she pulled it off in a way that only a celebrity could. Do you want earrings like these? Check out these antique pearl earrings and rock them on your local red carpet.
2. Paula Patton: Were they beads or pearls? We're not sure, but when you wear a beaded gown as dramatic as the one she stunned in last night, you've sure put pearls on our mind!! Vintage and glamorous, Patton definitely turned heads everywhere she strutted — leaving us wonder – just how heavy was that dress? While it might be a little much to leave the house dressed head to toe in pearls, you can recreate this look with our relaxed pearl necklace.
3. Viola Davis: Our favorite actress from the show that we hate to love (and love to hate), How to Get Away with Murder, looked stunning in a white gown, complete with her white and orange earrings. While they look like a cross between pearls and beads, we love the pop of color and attitude this very talented actress added to her gorgeous ensemble. Want earrings like Davis'? Check out these dangling pearl earrings and get away with anything.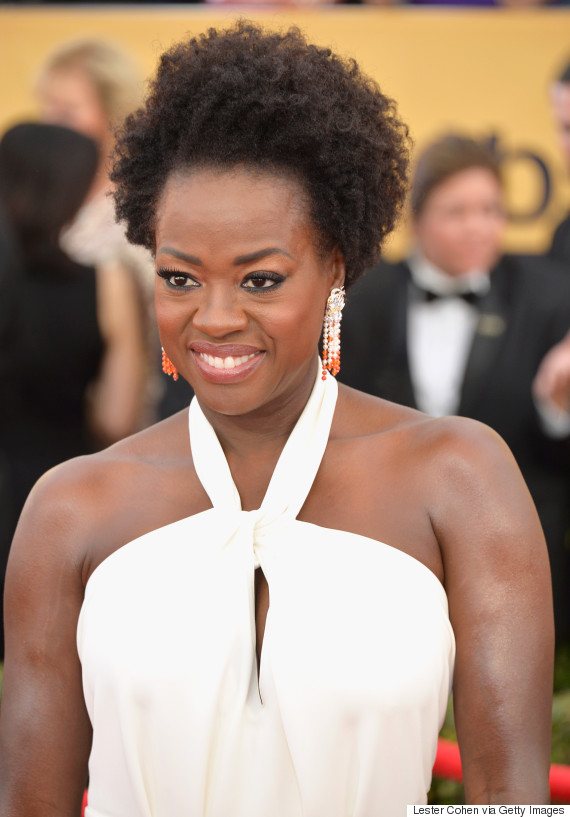 4. Maggie Gyllenhaal: In a new twist to our pearl favorites, Gyllenhaal wore a pink version in her dramatic gold-and-pearl earrings. Worn with yet another white gown, this dramatic version of pearls is a winner in our book. If you want to take a twist on a classic pearl earring, try out these pink freshwater pearls to satisfy your more adventurous side.
Well, there you have it – our roundup of pearls at last night's SAG awards. Did we miss anything? We loved seeing all the water colors, bright hues, and textures brought to the red carpet, as always. Go get your fashion on – maybe do some online shopping while you're watching the snow fall…we have a suggestion of where to start…
Until next time,
P&C