Last night at the VMAs, we felt like were were in a total time warp. From the midriff-baring ensembles to chains, denim and leather everywhere, we were SURE we left the 2000s and were stuck back in the 90's, and not in a bad way. In honor of the 2014 VMAs, let's look at some of the best (and worst) fashions of the 1990's, and how you can incorporate the best of 'em into your 2014 wardrobe.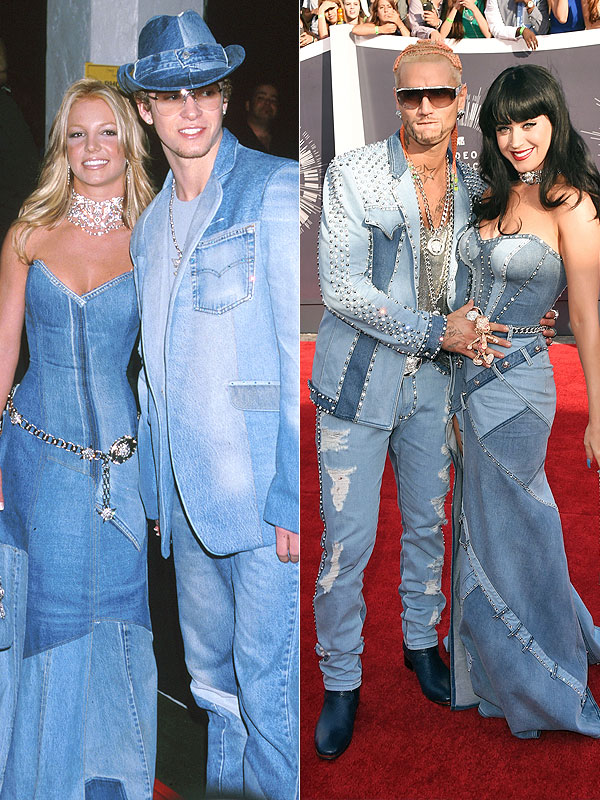 1. Embellished denim jackets: While we may choose to leave the denim ball gown (ahem, Katy…way to make a statement!), the denim jacket was just as iconic in the 90's as it is today. If you want to channel your inner Brittney, try a pearl studded denim jacket that's reminiscent of the 90's without looking outdated and childish.
2. Midriff baring shirts: At last night's VMAs, everyone from Miley to Becky G to Lucy Hale were showing off their stomachs in their ensembles. Today, the midriff is a hot piece of skin that everyone's showing off, no matter what body type you carry. For an updated look, wear a crop top with a midi-skirt and a sleek, pulled back hairstyle. The finishing touch? Pearl button earrings.

Get the look:
3. From Overalls to Jumpsuit: Thank the fashionistas, the days of the overalls are OVER (for now), switched in favor for a much more streamlined jumpsuit. The one-piece rompers at the VMAs last night fell across the board, from Taylor Swift's modern printed number to Ali Fedotowsky's chic black one. Want to get her look? Pair your fave black jumpsuit or romper with Pearl & Clasp's endless pearl necklace and you're ready to hit the town for sure.
Get the look:
4. Embellishments: From studs to chains to mesh, everything was seen on the red carpet last night. While embellishments are risky and can easily go out of style, there are certain bits of bling that you simply cannot live without. While we don't recommend buying a bedazzler and going crazy on all of your clothes, a tasteful skirt or top embellished with some rhinestones, or better yet, pearls, will go beautifully with some of the classics in your closet.
Want to wear embellishments? Here are some looks we love: